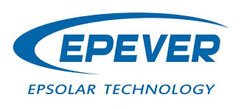 The GoMate is a negative mount solar charge controller designed for a clean and aesthetically pleasing environment.
Ideal for motorhome and boat , also included surface mount cover to suit your personal preferences. GoMate adopts high efficiency
The PWM charge mode is also equipped with a special LCD display to indicate the real-time operating status of the system.
This charge controller is fully automatically controlled, which provides users with a simple usage model.
Characteristics:
Recessed and recessed installation design
High quality and low failure rate (ST / IR) components to ensure product life

Intelligent PWM charging in 3 steps: Bulk, Boost / Equalize and Float

Battery type: sealed, frozen, flooded and user

Real-time energy statistics function

Battery temperature compensation function

Digital LCD monitor for informative display of operating parameters and error messages

Sampling interface design for voltage drop and temperature compensation

RS485 communication port with Modbus protocol and short-circuit protection for 5V / 200mA power supply

Multiple communication devices

Nominal load current at working temperature without derating

Extended electronic protections

Monitor and set parameters via PC or APP software
1. Controller Box

2. 4.5mm Mounting Hole Size

3. SET

4. LCD

5. MENU Button

6. Battery Terminals

7. PV Terminals

8. Remote Temperature Sensor
Port

9. RS485 Communication Port

10. Remote battery voltage sensor port
Technical specifications:
Model

GM3024N

Electrical parameters

Nominal voltage of the system

12 / 24VDC Auto

Battery voltage range input

8 V ~ 32 V

Current nominal load

30A

Maximum short-circuit current PV

Maximum open circuit voltage PV

50 V

Battery Type

Sealed (default) / Gel / flooded / user

-The consumption of

Le4.2mA / 12 V;

le2.6mA V / 24 V

Compensation of temperature coefficient

-3mV / degC / 2 V (default)

Voltage drop charge

0.21 V

The environmental parameters

Storage temperature range

-30degC ~ + 80 degC

Working temperature environment

-20degC ~ + 55 degC (100% entry and exit

Relative humidity

Le95% NC!

Case

IP30

Ground connection

Common negative

Altitude

5000 m

Degree of contamination

PD2

Mechanical parameters

Dimension (LtimesWtimesH)

178.5times105.5times48.3mm

Mounting dimensions

166.5times93.5mm

Mounting hole size

Phi5mm

Terminal

16mm / 6AWG

Cable is recommended

10mm / 8AWG
Technical sheet