Wind generator i-500 Plus 24V
As a result of our continuous improvement process, we are pleased to introduce our new i-500 plus wind generator.
The all-new IstaBreeze® i-500 plus is a professional wind generator that delivers reliable power, even under extreme conditions, automatically and unattended with our new intelligent hybrid charge controller.
The generous sizing of the generator components and the heat dissipation via the new aluminum housing guarantee a low thermal load, which guarantees a long service life, even at high ambient temperatures.
The generator shaft is housed in two deep groove ball bearings made of stainless steel, encapsulated and lubricated for life. On the front bearing, a special friction-free sealing disc prevents the penetration of moisture and dust.
km / h

m / s

Load capacity of IstaBreeze® © -500

in watts

calm

<1

<0.3

Start at 2 m / s

Quiet train

.

1-5

0.3-1.5

Start at 2 m / s

Light wind

6-11

1.6 to 3.3

15 watts

Weak wind

12-19

03/04 to 05/04

50 watts to 4.5 m / s

Moderate wind

20-28

05/05 to 07/09

100 watts

Fresh wind

29-38

8.0 to 10.7

150 watts

Strong wind

39-49

10.8 to 13.8

300 watts at 12 m / s // 380 watts at 13 m / s

Stiff wind

50-61

13.9 to 17.1

400 watts at 14.5 m / s with autonomous monitoring

Stormy wind

62-74

17.2 to 20.7

450 watts independently monitored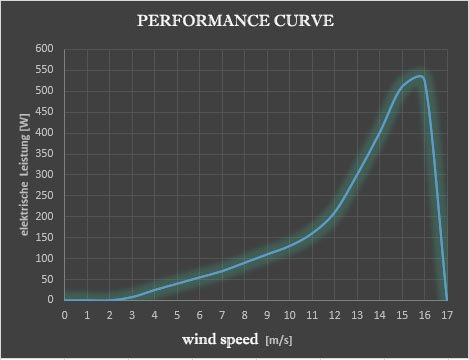 Feature :

WIND GENERATOR

Voltage 24V (AC)

450W Evaluation

Alternator housing aluminum (powder coated)

Plastic body + 30% fiberglass

Max current

(= 24V 18A)




blades

Plastic material F + 30% fiberglass

Length 50 cm

Weight 180g (per sheet)

Volume 40 db

Rotor diameter 103 cm

Content:

options:

Drums

Mast

Regulator

Extension