WIND POWER 400W (600W PMAX)
Wind turbine 24V 400W of last generation + hybrid wind / solar controller.

Robust, silent and powerful.
Provided basic with a hybrid wind / solar controller.

The equipment is complete and includes:
- The mobile assembly with the generator mounted on a pivot and its plastic coating
- The three blades of high precision
- The wind / solar hybrid charge controller
- The screws and the appropriate keys
- A notice of detailed and complete editing.

The set does not include batteries or mast (available in options)
The equipment is new and guaranteed 2 years manufacturer.

Hybrid charge controller
Characteristics :
The exclusive use of three-phase braking technology perfectly protects the wind turbine

Simple and easy to set

Turbine overspeed protection

Display of temperature, operating environment and real-time monitoring

Real-time monitoring of the different parts of the electrical parameters (voltage and current)

2 years warranty

The various system parameters can be set by the user.
| | |
| --- | --- |
| Nominal voltage | 24V |
| Intensity max battery | 30A |
| Rated power of the panels | 300W |
| Rated power of the wind turbine | 600W |
| Max speed of wind turbines | 100 - 2000r / min (adjustable) |
| Brake temp of wind turbines | 10 min - 60 min (adjustable) |
| Charge voltage | 28V (adjustable) |
| Charge voltage return | 25V (adjustable) |
| Discharge protection voltage | 20V (adjustable) |
| Recovery voltage overdischarge | 22V (adjustable) |
| Charge temperature compensation factor | 4mV / ° C / 2V (adjustable) -20 - 65 ° |
| Case size | 127 mm X 150 mm X 75 mm |

Wind turbine
This wind turbine weighs only 8.5 kg. Compact and lightweight, it does not require a heavy and expensive mast. It is maintenance free and produces even in light winds. It runs very quietly and cuts through strong winds.
Adaptable very easily on an existing solar installation, the body is made of aluminum alloy.
The wind turbine produces energy with a wind from 15 km / h, this current is regulated by a charge controller supplied, it is then stored in batteries 24 volts (not included).
These batteries are connected to a voltage converter (not included) that will convert this current into 220 volts (standard domestic socket).
(not included)
These batteries are connected to a voltage converter (not included) that will convert this current into 220 volts (standard domestic plug)

Technical characteristics :
| | |
| --- | --- |
| Model | DF-600 |
| Nominal power | 400W (12m / s) |
| DC Voltage | 24V |
| Max power amperage | 25A |
| Max power | 600W (15m / s) |
| Start-up | 2.6 m / s |
| Production start | 3.5 m / s |
| Production stop | 15 m / s |
| generator | Three-phase - permanent magnets |
| Rotor diameter | 1185 mm |
| Wind protection | electromagnetic braking |
| Lifetime | > 15 years |
| Materials | Alu and plastic coating |
| Operating temperature | from -40 ° to + 70 ° |
| Weight | 8.5 Kg |
Relationship between power and wind speed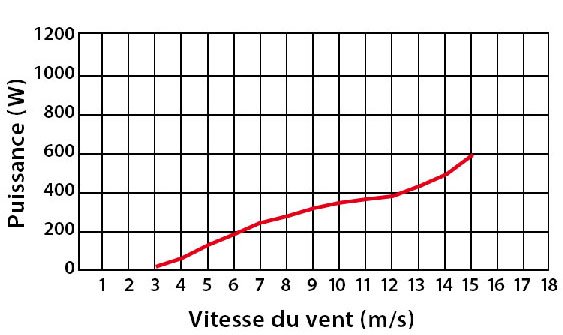 TECHNICAL SHEETS & DOCUMENTS