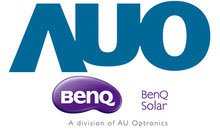 BenQ SunForte 335Wc Monocrystalline Solar Panel
A highly efficient monocrystalline solar panel , the BenQ Sunforte 335Wc offers more power for the same area compared to a standard solar panel. The back-contact technology maximizes efficiency , the absence of contacts in the front increases the conversion of light. BENQ Sunforte also has the advantage of having fewer power losses in hot weather .
BenQ Solar, by AU Optronics, the assurance of premium quality at the best price
The BenQ Solar brand specializes in the manufacture of high-efficiency solar products for residential customers, businesses or utilities.
BenQ has a manufacturing experience that allows it to produce premium products while maintaining competitive prices.
25 years warranty
Description and characteristics



The SunForte 335Wc Photovoltaic Module from BenQ is a solar panel consisting of 96 high efficiency rear contact cells.
Rated power: 335Wc
Black anodized aluminum frame

Glass with

anti-reflection

treatment

Rear contact

: the absence of contacts at the front increases the light conversion space

Without grounding

: Valid compatibility with inverters without transformers for high voltage systems

IP67 junction box

: high level of waterproofness and dust

Resistance to corrosion and humidity

(Module according to IEC 61701)

Module weight: 18.6 kg
Characteristics :
| | |
| --- | --- |
| cells | 96 cells with back contact technology with high efficiency |
| Max Power | 335W |
| Voltage in open circuit (Voc) | 64,9V |
| Short circuit current (Isc) | 6.62 A |
| Rated voltage (Vmpp) | 54.7 V |
| Rated current (Impp) | 6.13 A |
| Frame | Anodized aluminum - black |
| Glass | High reflection tempered glass with high transmission 3.2 mm |
| Dimensions | 1559 x 1046 x 46 mm |
| Weight | 18.6 kg |
Guarantees and certificates Product warranty: 10 years




Certifications: IEC / EN 61215, IEC / EN 61730, UL 1703 * 2
Technical characteristics
Weight

18.6 kg

Color

classical

Panel type

Rigid / Traditional, High Yield

cells

monocrystalline

Max power

- Wc

335

Voltage in open circuit (Voc)

64.9 V

Short-circuit current (Isc)

6.62 A

Power current max.

(Imp)

6.13 A

Max power voltage (Vmp)

54,7V

Panel output

20.6%

Width

1046 mm

Height

1559 mm

Frame

46 mm

Thickness

46mm