Q CELLS's new Q.PEAK DUO-G6 solar module is captivated by Q.ANTUM DUO's innovative technology, which allows for particularly high performance on a small surface.

Q.ANTUM's temperature-keeping cell concept has now been combined with state-of-the-art circuit half-stacks and a six-bar design, resulting in exceptional performance in real-world conditions -

both in low solar radiation intensity and in warm and clear summerweather THE Q.ANTUM TECHNOLOGY: FAIBLE COST OF ELECTRICITY

Better surface efficiency and lower system

costs thanks to its high power classes and efficiency of

up to 19.5%. AN INNOVATIVE TECHNOLOGY BY ALL TIME
Optimal yields in all weathers thanks to excellent low-light behaviours and temperature changes.



CONTINUES PERFORMANCE Long-term performance safety thanks to Anti LID Technology, Anti PID Technology 1 , Hot-Spot Protect and Traceable Quality Tra.Q™ EXTREME MEOPES FRAME in high-tech aluminum alloy, certified to withstand high snow loads (5400 Pa) and high wind loads (4000 Pa).


INVESTISSEMENT SAFETY 12-year product guarantee, as well as a 25-year linear performance guarantee2.


POINTE LORCOR MODULE TECHNOLOGY
Q.ANTUM DUO combines innovative half-cell and wiring technology with advanced Q.ANTUM Technology.


Q POWER GARANTIE CELLS
At least 98% of rated power in the first year.

Then, 0.54% degradation per year maximum.

At least 93.1% of rated power after 10 years.

At least 85% of rated power after 25 years.

All figures have measurement tolerances. Guarantee according to the terms in force applied by the Q CELLS office on which your region depends.
Low-irradiance performance
Typical module power under low radiation conditions compared to STC conditions (25 ° C, 1000 W / m²).


Dimensions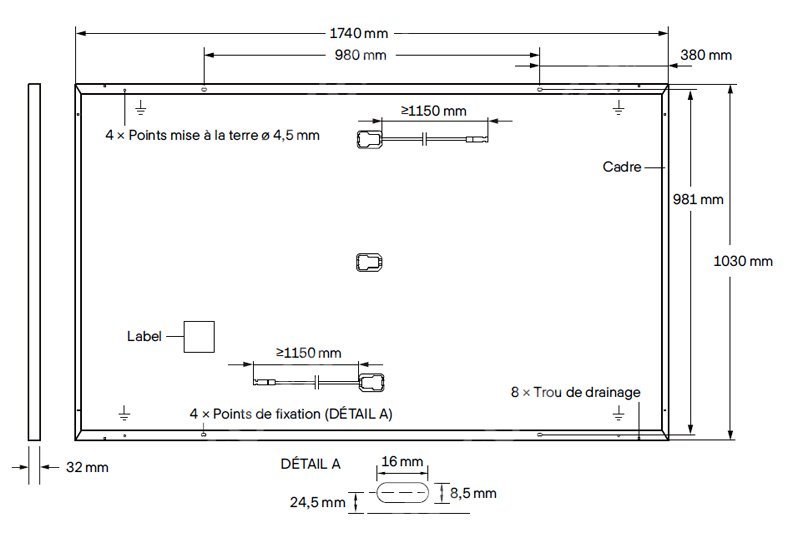 techniques


Weight 19.9 kg

Color Full Black (black)

Panel type High efficiency

Panel Type Rigid / Traditional

Monocrystalline cells

Max power - Wc 335

Open Circuit Voltage (Voc) 40.41 Voc

Short-circuit current (Isc) 10.47 A

Max power current (Imp) 9.97 A

Max power voltage (Vmp) 33.62 V

Panel efficiency 18.7%

Width 1030 mm

Height 1740 mm

32 mm frame