BMV-700 BMV-702 FangPusun Precision Battery Controller
Basic information
Operating temperature range: -40 ..... + 50 Degree
Input voltage range, auxiliary battery: Na
Battery capacity (Ah): 20-9999 Ah
Installation: Recessed
Relay: 60V / 1A normally open (function can be reversed)
Shunt (Included): 500A / 50mv
Cable (Included): 10 Meters 6 UTP Basic with Rj12 connectors, and Cabl e
Security: In 60335-1
Brand: Fangpusun
Specifications: CE, RoHs, SGS, ISO9001
HS Code: 8537109090
The remaining capacity of the battery depends on the amp hours consumed, the discharge current, the temperature and the age of the battery. Complex software algorithms are necessary to take into account all these variables.
In addition to the basic display options, such as voltage, current, and amps consumed, the BMV-700 series also displays charge status, remaining time, and power consumption in watts.
The BMV-702 has an additional input that can be programmed to measure voltage (from a second battery), battery temperature, or midpoint voltage (see below).
Bluetooth Smart
Use the Bluetooth Smart Dongle to monitor your batteries on smartphones, tablets, macbooks and other Apple or Android devices.
Easy to install
All electrical connections are to the quick connect board on the current shunt. The shunt connects to the monitor with a standard RJ12 telephone cable. Included: RJ 12 cable (10 m) and battery cable with fuse (2 m); no other component needed.
Easy to program (with your smartphone!)
A quick installation menu and a detailed configuration menu with scrolling text help the user to navigate through the various parameters.
Monitoring of the median voltage (BMV-702 only)
This feature, which is often used in the industry to monitor large and expensive battery banks, is now available for the first time at a low cost, to monitor any bank of batteries.
Standard features
- Battery voltage, current, power, amp hours consumed and state of charge
- Time remaining at the current exit rate
- Programmable visual and audible alarm
- Programmable relay, to disable non-critical loads or to operate a generator when needed
- 500 A Quick Connect Bypass and Connection Kit
- Possibility of shunt selection up to 10,000 amperes
- VE.Direct communication port
- Stores a wide range of historical events, which can be used to evaluate usage patterns and battery health
- Wide input voltage range: 9.5 - 95V
- High current measurement resolution: 10 mA (0.01A)
- Low power consumption: 2.9Ah per month (4mA) at 12V and 2.2Ah per month (3mA) at 24V
BMV-702 additional features
Additional input for measuring the voltage (of a second battery), the temperature or medium voltage, and the corresponding alarm and relay parameters.
Other battery monitoring options
- VE.Net battery controller
- VE.Net High Voltage Battery Controller: 70 to 350 VDC
- Lynx Shunt VE.Net
- Lynx Shunt VE.Can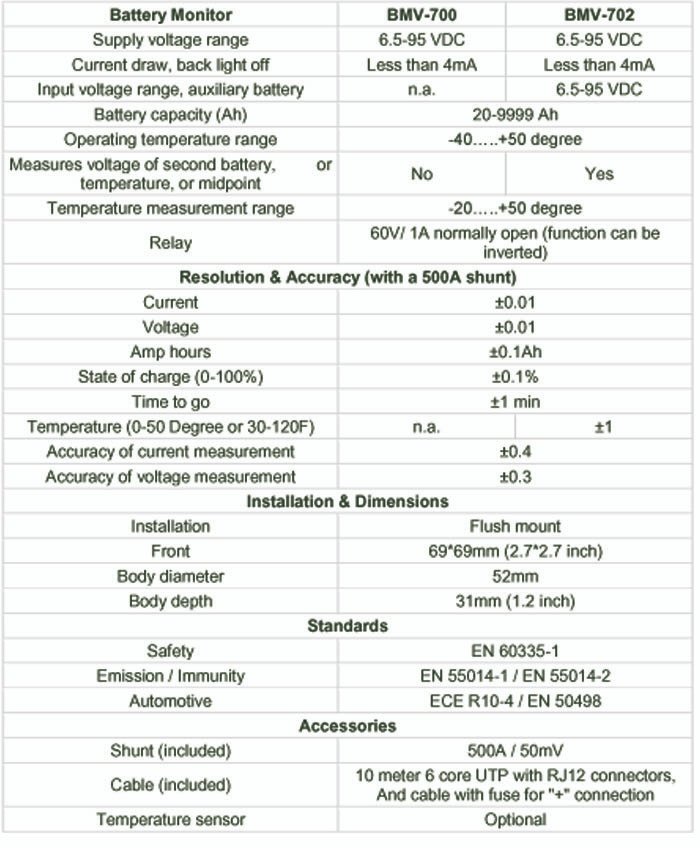 BMV-700/702 match USB cable, get real-time data and history on PC.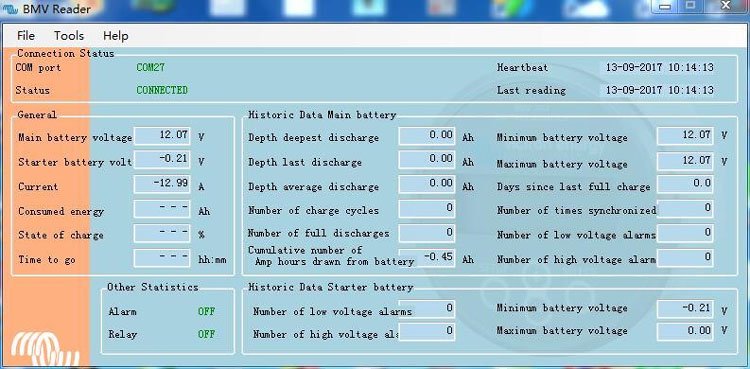 BMV-700/702 Bluetooth dongle match, get real-time data and history on Apple and Android.