Flat roof mounting system - 20 or 40 panels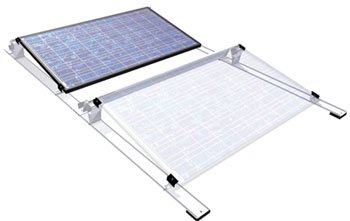 A flexible and compact structure
This system is suitable for all conventional flat roofs or flat surfaces. This structure requires little hardware and allows the use of shorter length rails, ensuring easier handling during installation to reduce costs and increase profitability.
> For 20 panels, the cost of the structure per panel is 69 €
> For 40 panels, the cost of the panel structure is 63 €
Ballasting is not included in the system.
Easy and quick to install
The simplicity of the system significantly reduces installation time. For example, setting up a 1 kW circuit requires about 3 to 4 minutes.
Flexibility
The structure can be assembled in two ways:
> for a SOUTH orientation with an inclination of 10 °
> for a SOUTH orientation with an inclination of 18 °
East-West orientation possible, thank you for contacting us.
The flexible design of the system allows it to be used on all kinds of flat surfaces and even allows installation on a roof with a slightly uneven surface.
Lightness
Thanks to its reduced ballasting (min 5kg / panel), the structure adds little extra weight to the roofs. Mounting is done without drilling the roof waterproofing membrane. A protective cap is only needed to cover the end of the rail.


Technical characteristics
Application

Flat roof that tolerates little extra load or on a roof that can not be pierced (Static stability without drilling the roof waterproofing membrane)

Orientation of the panels

South at 10 ° or 18 ° (east-west on request)

Ballast

Normal roof area: min.

5kg / panel;

Corner / corner area: min.

20kg / panel

Roof load

Min.

12 kg / m²

Materials

Alu and stainless steel
Data Sheets & Documents