Contents of the fixing kit

35x40 mm aluminum rail
Aluminum rail on which is positioned the solar panel. Custom rail available on request.

Junction for rail - 2 fixing bars
These 2 bars are used to securely assemble 2 pieces of rail together without screws or tools! Simply insert the tie bars into the two pieces of rail to be assembled.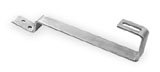 Fastening hook for slate roof
This hook is attached to the roof and serves to fix the aluminum rail used to support the solar panel.

Middle Clamp - Panel Fixation
Clam for the internal fixation of photovoltaic panels. Height adjustable according to the height of the solar panel frame: 35 - 50mm. Attaches to aluminum rail with stainless steel bolt and nut (supplied).
Option: Height to choose according to the height of the panel frame.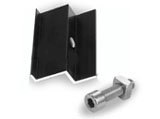 End Clamp - Panel Attachment
Clam for the external fixation of the panel. Available heights: 35mm - 40mm - 45mm - 47mm - 50mm. This clam attaches to the aluminum rail with bolt and nut (supplied)


How to choose a kit adapted to my panels?
The fixing kit is suitable for all slate roofs. Thanks to its options, it adapts to the layout of your panels.
The fixings are compatible with conventional size panels (approximately 1m60 x 1m).
1. Select the amount of panels in portrait or landscape
Choose, by row, the amount of panels arranged in portrait or landscape.
For example, the provision opposite requires 3x the product Fixation Kit:
> 1st kit for row 1: 3 panels in portrait
> 2nd kit for row 2: 2 panels in landscapes
> 3rd kit for row 3: 2 panels in landscapes
2. Select the right speaker for your panel
The clam is used to fix the panel on the aluminum rail. Its height must match the thickness of the frame of your panel so that it is securely attached to the rail.
Available clamping height: 35 - 40 - 45 - 47 - 50 mm

Detail of the material provided according to the quantity of panel