"2 panels of 100Wp, camper, caravan, boat ..."
200W full kit for camper with solar panel, 20-year warranty.
Panel and battery wiring is in 4mm² double insulation so as to guarantee a charge without any losses.
Charging the battery in 3 steps ensuring an extremely clean charge of the battery.
COMPOSITION

2 polycrystalline solar panels of 100Wc: 200Wc
Dimensions: 1175 x 540 x 35 mm.
Max power: 100W.
Weight: 8 Kg.
Polycrystalline cells
The reduced dimensions of this panel make it an ideal companion for nomadic applications (camping, boat ...)
The frame is weatherproof anodized aluminum. It gives the panel a particularly strong mechanical stability to guarantee ease of assembly and transport.
Connectivity is simple and fast (60cm of cable with MC4 plug)
Normal temperature of use NOCT: 45 ° C

Wind resistance: 130 km / h

Maximum diameter of the hailstone: 25 mm

Impact speed of the hailstone: 80 km / h

Lightweight, reinforced anodized aluminum frame

High transmissivity of glass

Plug & play box with 3 diodes

Safety glass 4mm thick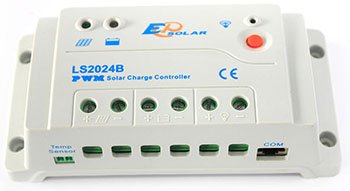 PWM Charge Controller LS2024B-20A
Capacity: 20 amperes.

Voltage: 12v or 24V

This controller can accommodate up to 240 watts of solar panels (in a 24V system)

Temperature compensation

2 years warranty.

Technology: PWM.
Get the most out of your controller by using the optional remote display
- graphical display of battery charge status
- Display of panel voltage, charging current, battery voltage, etc.
- All load voltages can be changed between 9 and 17V (X2 for 24V), also disconnection voltage
- Programming the consumer output according to a day / night mode or a time mode
Available as an option:
MPPT regulator 20A +124,6 €

Wiring and connectivity

The kit is equipped with a special 4mm² double insulation solar cable. This important section ensures that it does not heat up even in case of big production, it is thus certain to have an optimal charge of the battery by minimizing losses to the maximum.

5 m of cable with mc4 connectors crimped on the cable are provided to connect the panel to the charge controller. The MC4 connectors guarantee a perfectly tight connection between the panel and the cable, and also make it possible to remove it very easily

2m battery cable with crimped battery lug are also provided.


| | |
| --- | --- |
| For Connector MC4 double male + femaleconnecting your panels in parallel | |

Motorhome roof pass




Vehicle fasteners
8 corners of attachments to install a solar panel on the roof of a motorhome,

The corners are stuck on the roof of the camper with the glue provided and the panel is screwed on them.

The panels are raised a few centimeters, which allows a good ventilation of these and minimize the losses due to high temperatures.