"Solar Kit 50Wp ideal for boat"
This solar kit of 50Wc has been designed to easily adapt to all types of boat

COMPOSITION

Flexible solar panel MX FLEX Protect 50 Wc
The flexible MX FLEX Protect 50Wc solar panels are suitable for marine use, they are perfect for recharging the batteries of your boat. Thanks to its flexibility and its extremely light weight (1 Kg), you can fix it easily on the roof of a boat
The waterproof junction box attached to the front panel and MC4 connectors allow you to connect easily and easily.
Ultra flexible and really light, they are very resistant to saline, humid and weathery environments!
With its high-performance Back Contact monocrystalline cells (22%), MX FLEX panels have the best in photovoltaic technology! These optimize the performance of the panel when it is in low light conditions, which optimizes the performance of the panel regardless of the weather conditions. The fixing eyelets located on the 4 corners allow you to fix it very simply or you wish
Technical characteristics
Voltage

12V

Weight

1.05kg

Color

Classic

Panel type

Soft and flexible

cells

Monocrystalline

power max.

- WC

50

Open circuit voltage (Voc)

21.12V

Short circuit current (Isc)

3A

power current max.

(Imp)

2.80A

Max power voltage (Vmp)

17.6V

Lenght

540mm

Height

555mm

Thickness

2.5mm

Solar controller SRNE PWM HP 24V 10A
The PWN Controller HP offers protection:

against overload
against undervoltage
against overcurrent
against short circuits
TVS against lightning
Technical sheet
model HP2410

Rated current 10A 20A

Current display function No No

System Voltage 12 V / 24 V Automatic Recognition

Loss without load <10mA / 12V; <12mA / 24V

Max.
Solar energy input voltage <55V

Max.
voltage at the end of the battery <35V

Surge protection 17.0V, × 2 / 24V;

Charge voltage equalization 14.6V, × 2 / 24V;

Charging voltage Boost 14.4V, × 2 / 24V;

Floating charge voltage 13.8V × 2 / 24V;

Charge Recovery Voltage 13.2V × 2 / 24V;

Excessive discharge recovery voltage 12.6V × 2 / 24V;

Excessive discharge voltage on open light control 5V;
light control close 6V

Equalize the 30-day charging interval

Charging time in 1H equalization

Charging time in boost 2H

Temperature compensation -3.0mV / ℃ / 2V

Light control Light control on 5V, × 2 / 24V;

light control of 6V, × 2 / 24V;

Light control judgment time 1 minute

Operating temperature -25 ℃ to + 55 ℃;

IP30 protection class

Net weight 100g 160g

Protection functions Short-circuit protection and reverse protection of solar panels

TECHNICAL CHARACTERISTICS SOLAR KIT

| | |
| --- | --- |
| Voltage output of the kit | 12V |
| Type of need | Motorhome / Boat / Boating |
| Number of panels | 1 panel |
| Battery storage | Without storage |
| Wind turbine | Without wind turbine |
| Voltage | 12V |
| Drums | Kit without battery |
| Inverter power | - from 1000VA |
| Network reinjection | Without reinjection |

5m of solar cable 2X4mm2 and 2m of battery cable 4mm²
MC4 crimped on cable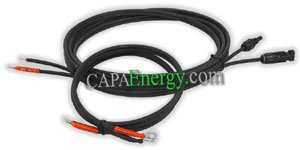 Long life
Thanks to the double sheath, these cables are extremely resistant to UV, heat, cold and bad weather.

Examples of use: