" Batterie OPTIMA RED "
The REDTOP® high-performance AGM battery is the ultimate starting battery designed to deliver a powerful burst of ignition power for a reliable start-up every time, whether it's used as a truck battery, automotive battery, or for other applications. The REDTOP will outperform and outlast traditional batteries in demanding cranking/starting applications. With impressive high-power delivery and extreme resistance to the most common causes of battery failure, the REDTOP is ideal for trucks, SUVs, hot rods, street cars and other applications that require a spillproof starting battery. Its reputation as a truck battery or automotive battery is unsurpassed.
Benefits:
Strong starting burst

Up to two times longer life

More than 15 times the vibration resistance

Spillproof, mountable in virtually any position

Maintenance-free

Faster recharging

Optimal starting power

Works well as a motorcycle battery or truck battery

START ON WHEELS CAPS!

The REDTOP® provides the appropriate power requirements for a wide range of applications: trucks, SUVs, farm and construction equipment, emergency vehicles, generators and streetcars. It is designed to provide power to the greatest possible initial startup, for a smooth start every time.
OPTIMA® REDTOP® batteries are ready for immediate use. Providing exceptional power within seconds of startup, REDTOP batteries feature SPIRALCELL® technology and are ideal for applications where it is a priority. Today, OPTIMA batteries REDTOP conquered the dual market for agricultural machinery and construction machinery. However, their performance is also excellent on emergency vehicles, generators and streetcars. The self-discharge of the battery REDTOP rate is extremely low, which means that after a long period of storage without use, it is still able to start your engine. This improves productivity by reducing maintenance time and cost of engine repair.
Nevertheless, the OPTIMA battery REDTOP offers more than just starting, however powerful it. It lasts three times longer than other batteries, it has a vibration resistance up to 15 times higher, it does not leak, its SpiralCell technology ensures the lowest internal resistance of all lead-acid batteries currently available on the market. As for his ability to reload it is exceptionally fast, enabling rapid recovery of tension, through both short walk. To summarize, this battery is solid as a rock ... Its power and longevity are characteristics that you can rely with confidence
Long life
OPTIMA batteries are ideal for seasonal use vehicles
as their self-discharge rate is low. All batteries
begin to discharge when they are not used for a
while. Not OPTIMA batteries, because they maintain a
significantly higher energy level, enough to start
large gear, such as tractors, harvesters or
recreational vehicles , even after a long winter of unused.

Red curve: Optima Redtop
Yellow curve: OptimaYellowTop
Gray curve traditional battery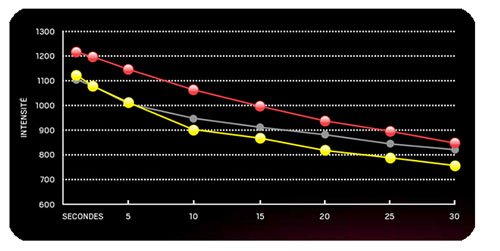 Higher starting power
OPTIMA® batteries provide greater power to the starter
in the critical phase of the first 10 seconds of the start-up cycle.
Red curve: Optima Redtop
Yellow curve: OptimaYellowTop
Gray curve traditional battery

SPIRALCELL TECHNOLOGY

Data Sheets & Documents