2x BenQ 265W polycrystalline solar panel

1x Hybrid Inverter WKS 1 kVA 24V

2x Battery GEL Ultracell 12V 100Ah

1x Solar cable extension 2x4mm² with 2xMC4

1x Connector MC4 d

triple

male and female

1x Double battery cable 16mm² 2m

1x 25mm² battery junction with lugs
3SOLAR PANELS BenQ 265Wc polycrystalline :
| | |
| --- | --- |
| cells | 60 cells polycrystalline silicon 156x156 mm |
| Max Power | 265W |
| Voltage in open circuit (Voc) | 37.9 V |
| Short circuit current (Isc) | 8.89 A |
| Rated voltage (Vmpp) | 31.7 V |
| Rated current (Impp) | 8.36 A |
| Frame | Anodized aluminum - black |
| Glass | high transparency tempered glass - 3.2 mm |
| Dimensions | 1639 X 983 X 40 mm |
| Weight | 18.5KG |
In its basic version, this photovoltaic system will bring you on average 2.6kW per day or 990kWh per year. It will produce a maximum of 530W per hour. The productions will depend on the seasons (summer / winter) of the geographical position and the inclination of the panels.

NETWORK INVERTER: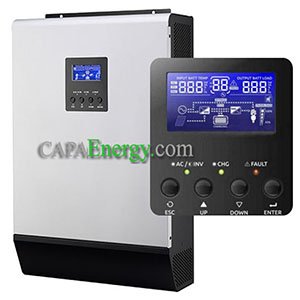 Hybrid WKS inverters are the ideal solution to power a house for self-consumption or to make an isolated site autonomous. This inverter can power consumers up to 800W. The built-in MPPT 25A charge controller allows up to 600Wp of panels. Ability to put the public network input or a generator to recharge the batteries. Totally configurable via the LCD screen of the inverter. In-house service, spare parts available
2 years warranty

BATTERIES:
What can I expect from my GEL lead batteries (gelled electrolyte)?
GEL lead batteries should only be discharged at 50% of their capacity on a daily basis. For example, if your fleet has a capacity of 4.8kWh, care should be taken not to consume more than 2.4kWh.
In order to comply with the manufacturer's recommendations, the majority of GEL lead-acid batteries can withstand faster discharges than in 10 hours. If you have a fleet of 4 batteries of 100Ah in 48v, and thus a total capacity of 4.8kWh, you should not consume more than 480W. Instantaneous photovoltaic production is to be added to this value. A slight margin is expected, however, a lead battery supports faster discharges for a short time.
What can I expect from my Lithium batteries?
In general, lithium batteries can be discharged much faster than stationary lead batteries. They also make it possible to use a greater part of their capacity. It is common to be able to discharge them in one hour and to be able to use up to 90% of their capacity.
How to know the capacity of your battery?
This one is expressed in amperes hours, it is the product of the multiplication of the capacity (Ah) of the battery by the tension (V) of this one:
Example: 4 batteries of 100Ah of 12V mounted in series will give a voltage of 48V. These batteries will have a total capacity of 4.8kWh
48V * 100Ah = 4800 Watts / hour = 4.8 kW / h


CABLE AND CONNECTORS:
All cables and connections are pre-wired in our workshops. Our kits are very easily mountable by 'beginner' in electricity. For those who have some reservations about the technical side, our technical team will assist you and help you every day from 8h to 17h.
ASSEMBLY:
The installation of this kit is very simple. Our instructions are clear and allow easy editing without special knowledge. We answer all your questions before, during and after installing your system.

GUARANTEE:
All products have an individual guarantee.
Panels guarantee 20 years at 80% of rated power.
Inverter WKS 2 years warranty.

Technical Characteristics:
| | |
| --- | --- |
| Wind turbine | Without wind turbine |
| Number of panels | 3 panels |
| Battery storage | With storage |
| Type of need | Self-consumption, Autonomy |
| Voltage output of the kit | 230 |
| Inverter power | 1000VA |
| Network reinjection | Without reinjection |