Thanks to its integrated battery, you have power even outside hours of sunshine. Its inverter transforms the direct current of the battery in order to supply the consumers with 230V socket. The two panels of 100wp can produce up to 1kw per sunny day.
COMPOSITION
2 polycrystalline high performance panels 100Wc

1 solar charge controller LS20 / 24B 20 amp

1 converter Victron Phoenix 12V 250VA

1 GEL battery 12V 55Ah

5m solar cable 2X4mm²

2m of 2X4mm² cable with battery terminals

MC4 connector male and female crimped on the cable

Two polycrystalline solar panels of 100Wc
Dimensions: 1175 x 540 x 35 mm.
Max power: 100W.
Weight: 8 Kg.
Polycrystalline cells
The reduced dimensions of this panel make it an ideal companion for nomadic applications (camping, boat ...)
The frame is weatherproof anodized aluminum. It gives the panel a particularly strong mechanical stability to guarantee ease of assembly and transport.
Connectivity is simple and fast (60cm of cable with MC4 plug)
Normal temperature of use NOCT: 45 ° C

Wind resistance: 130 km / h

Maximum diameter of the hailstone: 25 mm

Impact speed of the hailstone: 80 km / h

Lightweight, reinforced anodized aluminum frame

High transmissivity of glass

Plug & play box with 3 diodes

Safety glass 4mm thick

PWM Charge Controller LS2024B - 10A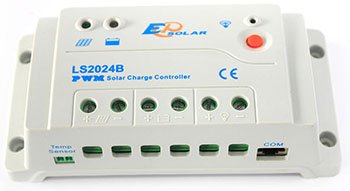 Capacity: 20 amperes.

Voltage: 12v or 24V

This controller can accommodate up to 240 watts of solar panels (in a 24V system)

Temperature compensation

2 years warranty.

Technology: PWM.

Fully programmable if used with its display
All load voltages can be changed between 9 and 17V (X2 for 24V), also disconnection voltage
Programming the consumer output according to a day / night mode or a time mode
Available as an option: EpEver MPPT Tracer A - 20A (+ 75.10 €)


GEL battery 12V 55Ah
Gel batteries are sealed batteries: no maintenance, no added distilled water. Enhanced safety compared to open lead batteries.
A GEL battery can withstand 100% discharge and return to its rated capacity if the unloaded hold time is short. This series has a longer discharge time compared to other batteries. Its special plate design increases battery life and especially in warmer temperatures. A separator within the battery improves its performance. It also has a longer shelf life.


Victron Phoenix Converter 250VA - 12V
Developed for professional use, the range of Phoenix converters is perfectly adapted to the most diverse applications.
These pure and high efficiency sinusoidal converters are designed without compromising performance. Hybrid HF technology provides exceptional features for compact dimensions, reduced weight, and complete compatibility regardless of the equipment being powered.
| | |
| --- | --- |
| Converter power at 25 ° C / 40 ° C (W) | 200 - 175W |
| Peak power | 400W |
| DC input voltage | 12V / 24V |
| Maximum efficiency 12/24 V (%) | 87/88 |
| Dimensions (mm) | 86x165x260 |
| Weight | 2.4kg |

wiring
5m of 2X4mm² solar cable with mc4 connectors crimped on the cable

2m of battery cable with battery lug set


USE
2 panels of 100Wc of very small dimensions which will allow you to supply small electrical equipment.
This kit will produce in Paris on average 800 Wh / day in July and 200 Wh in December.
The battery has a useful capacity of 390W / h (at 50% discharge to optimize its life - 1200 cycles).


This complete kit is more oriented for garden lighting, pond pumps or small consumers in 230V such as computer, small television, radio ...
The small panel can be used in mobile application (camping ), or be fixed on a roof or a structure.

TECHNICAL CHARACTERISTICS
| | |
| --- | --- |
| Voltage output of the kit | 230 |
| Battery storage | With storage |
| Type of need | Autonomy, Garden / Hut / Leisure |
| Wind turbine | Without wind turbine |
| Number of panels | 2 panels |
| Voltage | 230 |
| Drums | Kit with battery |
| Inverter power | - from 1000VA |
| Network reinjection | Without reinjection |