"Survivalist Solar Kit 30Wc"
Ready-to-use nomadic solar kit delivered 100% complete. Ideal for your consumers under 500 watts. It is suitable for off-grid power
1x 12V MX FLEX Protect 30Wc Solar Panel Back Contact

1x SRNE PWM Solar Controller 24V 10A

1x Ultracell GEL Battery 12V 26Ah

1x Inverter converter PSM 500 12V - 500W

2x Solar cable 2X4mm² with MC4 (sold by the meter)
Thanks to its integrated battery, you have power even outside hours of sunshine. Its inverter transforms the direct current of the battery in order to supply the consumers with 230V socket. Its pre-wired box allows you to be ready to feed your consumers only minutes after your arrival on site.
COMPOSITION
MX FLEX Solar Panel 30W 12V
Flexible and really light, they are very resistant to saline, wet environments, bad weather and even trampling!
The MXFLEX panel will fit perfectly and simply in any place where you want to place them.
The waterproof junction box attached to the front of the panel and its connectors MC4 will allow you to connect it easily and easily.
Thanks to their very high efficiency Back Contact SUNPOWER monocrystalline cells, the sunpower MX FLEX panels have the best in photovoltaic technology!
| | |
| --- | --- |
| Power (Pmax) | 30W |
| Voltage (vmp) | 17,6V |
| Open circuit voltage (Voc) | 21,2V |
| Short-circuit current (Isc) | 1,83A |
| Current (Imp) | 1,70A |
| Tolerance | +/- 5% |
| yield | 19.5% |
| Dimensions | 387x535x3mm |
| Weight | 0,770Kg |
options





Battery GEL 12V 26Ah
Gel batteries are sealed batteries: no maintenance, no added distilled water. Enhanced safety compared to open lead batteries.
A gel battery can withstand 100% discharge and return to its rated capacity if the unloaded hold time is short. This series has a longer discharge time compared to other batteries. Its special plate design increases battery life and especially in warmer temperatures. A separator within the battery improves its performance. It also has a longer shelf life.
Characteristics :
options



LS1024B Charge Controller - 10A
Capacity: 10 amperes.

Voltage: 12v or 24V

This controller can accommodate up to 250 watts of solar panels (in a 24V system)

Temperature compensation

2 years warranty.

Technology: PWM.

Fully programmable if used with its display.
All load voltages can be changed between 9 and 17V (X2 for 24V), also disconnection voltage
Programming of the consumer output according to a day / night mode or a time mode.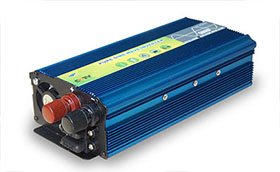 500W converter
This 500W converter offers excellent performance: more than 90% efficiency, very high peak power (700W, to deal with an occasional over-demand of energy, when some electrical devices start)
Perfect for the sites where the inverter must stay constantly on, when nothing is plugged in, its self-consumption is very low. Ideal for powering sensitive electronic equipment, such as TVs, computers or other electronic devices.
| | |
| --- | --- |
| Power | 500W |
| Peak power | 1000W |
| DC input voltage | 12V |
| Cut-off | 15V |
| Power failure | 10.4V |
| yield | > 90% |
| Dimensions (mm) | 200x100x54 |
| Weight | 1Kg |
| Model | PSM-500 |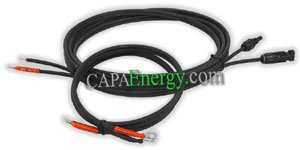 3 m of 2X4mm2 solar cable and 2m of 4mm² battery cable
MC4 crimped on cable
Long life
Thanks to the double sheath, these cables are extremely resistant to UV, heat, cold and bad weather.
12V USB adapter
The 12V USB adapter allows you to charge your devices directly on your battery.
The holes allow you to fix it on any support.
Input voltage: DC 12V

Output voltage: DC 5V / 1A