"Autonomous lighting in your garden thanks to solar energy"
50W polycrystalline solar panel
Connectivity is simple and fast (60cm of cable with MC4 plug)
Normal temperature of use NOCT: 45 ° C

Wind resistance: 130 km / h

Maximum diameter of the hailstone: 25 mm

Impact speed of the hailstone: 80 km / h

Lightweight, reinforced anodized aluminum frame

High transmissivity of glass

"Plug & play" box with 2 diodes

Safety glass 4mm thick
| | |
| --- | --- |
| cells | polycrystalline |
| Maximum power (Pmax) (W) | 50 |
| Peak peak current (Imp) (A) | 2.6 |
| Voltage in open circuit (Voc) (V) | 21.6 |
| Short circuit current (Isc) (A) | 3.05 |
| Operating temperature (° C) | -40 to +85 |
| Weight (kg) | 4.5 |
| Frame | Anodized aluminum |
| Thickness of the frame | 35 mm |
| Dimensions | 670 x 545 mm |
| Manufacturing | Chinese |

Battery GEL 12V 26Ah
Gel batteries are sealed batteries: no maintenance, no added distilled water. Enhanced safety compared to open lead batteries.
A gel battery can withstand 100% discharge and return to its rated capacity if the unloaded hold time is short. This series has a longer discharge time compared to other batteries. Its special plate design increases battery life and especially in warmer temperatures. A separator within the battery improves its performance. It also has a longer shelf life.
Characteristics :


Regulator PWM 10A - SRNE
Automatic identification of the 12V / 24V system voltage.
Digital LED display and one-touch operations, allowing simple and convenient operation.
Adopts the ternary form charge algorithm, loads the storage battery in equalization charge mode once a week. It can prevent unbalance and vulcanization of the battery efficiently, extending the life of the battery.
Has the function of protection of electrical data. The parameters can be stored during a power system failure. Even in this type of case, there is no need to re-parameterize the solar controller. Simple and practical!
Protections:
TVS protection against lightning (diode of suppression of transient voltages).

3 LED bulbs 12V 4W (40W incandescent) with cables and sockets
3 cables of 5m long with soquet and LED bulb.
The cable is flexible, double jacket, 2X0.75².
LED bulb with long life globe-shaped dimension and reduced consumption. Its lighting angle is 360 °, it is perfect to replace your old bulbs incandescent or compact fluorescent and realize great savings.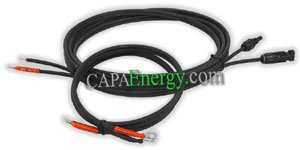 5m of solar cable 2X4mm²
To connect the panel to the charge controller
We directly crimp the connectors in our workshop
Thanks to the double sheath, these cables are extremely resistant to UV, heat, cold and bad weather.

2m cable 2X4mm² with battery lug

To connect the charge controller to the battery

TECHNICAL CHARACTERISTICS
Type of need

Autonomous lighting

Voltage output of the kit

12V

Battery storage

With storage

Wind turbine

Without wind turbine

Number of panels

1 panel

LED type

Standalone lighting kit, Bulb

Voltage

12V

Lighting power

4W

Technology

Gel

Battery capacity

26 Ah

Panel type

Rigid / traditional

cells

monocrystalline

Max power

- Wc

20

Voltage in open circuit (Voc)

22.46 V

Short-circuit current (Isc)

1.21 A

Power current max.

(Imp)

1.07 A

Max power voltage (Vmp)

18.72 V

Drums

Kit with battery

Inverter power

- from 1000VA

Network reinjection

Without reinjection